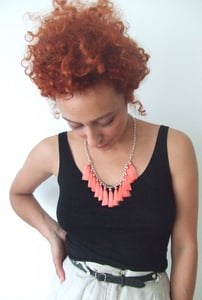 £

70.00
A dual-purpose piece, the miniature handmade tassels dangle elegantly around the wrist from the solid silver chain bracelet and can be transformed easily to a striking necklace by adding the matching extender chain. A simple idea that doubles the appeal of this statement design.
Secure silver lobster clasps on each length of chain make the bracelet size fully adjustable.
Available in Black and Coral.
View more images on my website. Just click here.
Each item is made to order and will be shipped beautifully wrapped in custom packaging. Please get in touch with any queries.